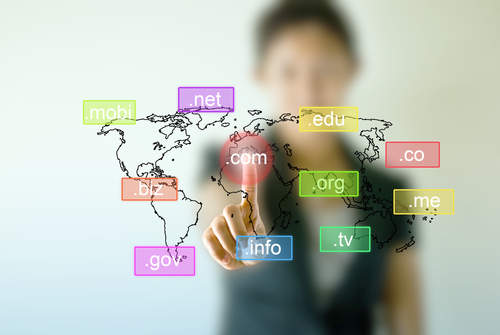 Trademark owners should create a healthy mix of country-specific and product-oriented Internet addresses.
The Internet has become an important business tool for brand promotion. Any company that wants to successfully put its products or services across to the public can't get around the benefits of the global online market anymore.
Lately, the Internet experienced an enormous transformation through the "New gTLD Program", initiated by the Internet Corporation for Assigned Names and Numbers (ICANN). In the last two years, hundreds of so-called new generic Top-Level Domains (gTLDs – the characters immediately following the final dot in an Internet address), have been introduced into the Internet – increasing the number of available domain extensions to more than 1,000. The aim was to enhance competition, innovation and consumer choice. As a consequence, the following dynamic growth of the World Wide Web issued new challenges to intellectual property consultants concerning trademark infringement, policing, and brand enforcement.
Challenge No 1 – How to protect trademarks online?
Brand owners would certainly not want competitors to make use of their good name by using the same or a similar brand name for their own businesses. Of course, they won't want third party businesses to take advantage of the hard work they had put into building up their brand's online reputation over the years. But when it happens, it very often turns out to be extremely complicated and expensive to trace the infringer, keep him off the brand and assert brand rights.
The solution: Get ahead of potential infringers
In order to avoid online brand piracy, brand owners should simply secure Internet addresses with their brand name before others do. This might sound expensive, but it's not. In fact, there is no need to invest a vast amount of money in the registration of hundreds of new domain names. But it's worth to invest some time
To filter the most interesting domain extensions for the relevant business and target market(s)
To register domains just under these core TLDs and
To monitor the rest steadily.
Internet addresses under various domain extensions will substantially increase the online presence of a company. This leads to optimized results in the search engines, which generates more traffic, addresses more potential customers and finally augments the revenue.
Challenge No 2 – How to master the diversity of the Latin American Online Market
Latin America consists of a multitude of different countries with unique characteristics, especially in terms of jurisdiction and business practice. Of course, this also affects the online market. In view of the sheer unlimited Internet it seems to be an insuperable challenge to focus on the Latin American market and fit in the various regional demands into one business plan at the same time.
The solution: Create a Latin American domain strategy
In order to gain a foothold in the broad Latina American business area, trademark owners should create a healthy mix of country-specific and product-oriented Internet addresses – tailored to the company and its target groups.
This could mean for one thing to secure the trademark under a country code Top-Level Domain (ccTLD) such as .AR (Argentina), .MX (Mexico) or .BR (Brazil), and for another to pay attention to the variety of new gTLDs.
The new generic domain extensions provide businesses with very specific, target group oriented – and therefore profit-bearing – Internet addresses. They can benefit from domains focusing on the national language, the relevant industry or business area and even according to their legal form. Businesses can create outstanding online presences by connecting their brand to the relevant domain extension as these examples show:
You are a lawyer? – www.YourName.abogado
You are working the real estate market? – www.YourName.casa
Taking care of your tennis club's business? – www.Clubname.club
Your company operates as Ltda. or S.R.L. – www.companyname.SRL
It is not only beneficial in terms of intellectual property rights but also for a company's marketing game plan. Potential customers will know with whom they are dealing at first sight when they come along a meaningful domain name. And they will stick to the website, because it shows exactly what they have been looking for.
A deliberately created domain mix keeps the costs under control and gives companies the opportunity to strategically expand their business areas. They can address new target groups – the profit prospects increase.
.SRL and .LTDA – A bonus for trademark owners
Limited liability companies in Latin America can benefit from an additional new gTLD advantage. Securing domains under the legal-specific extensions .SRL and .LTDA gives them the valuable option to connect the business name with the company's legal form.
The advantage: Domains under these two corporate identifiers are only available to companies that are operating as Sociedad de Responsabilidad Limitada, Compañía de Responsabilidad Limitada or Sociedad Limitada and are recorded at the responsible authorities in the respective countries. This makes .SRL and .LTDA seals of quality that create reliability and confidence – a valuable basis for successfully doing business on the Internet.
"Ltda" and "Srl" are commonly used (official) abbreviations in the following countries: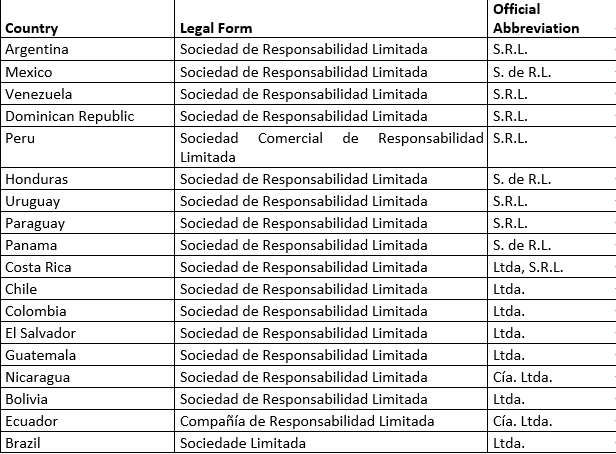 Follow the trend – secure strategically chosen trademark domains
Trademark protection is a big issue on the Internet and should be paid due attention. Many trademark owners miss out to secure their trademark domain-wise and have to pay a high price. Instead of huddling through the complex rights protection mechanisms after a trademark or a good business name has become subject to an infringement, it seems much more reasonable to put some efforts into a solid and thoughtful domain strategy in advance.
Securing trademark domains under the most adequate extensions including the corresponding legal business TLDs such as .SRL and .LTDA should be a matter of course and part of the work routine when establishing a trademark, a brand or even when launching a new business. It pays off to act proactively and protect trademarks online in due time.
Written by: 
Jeanette Heller from
InterNetX Corp, collaborators for B&R Latin America IP LLC.